Corflutes & Banners
Big Hit Team Wear offers high-quality corflute signs and vinyl banners for businesses and organizations. The corflute signs are made from Australian-manufactured materials and are printed in full colour with high-resolution graphics. The vinyl banners are also single-sided and full colour, and can be finished with various hanging options.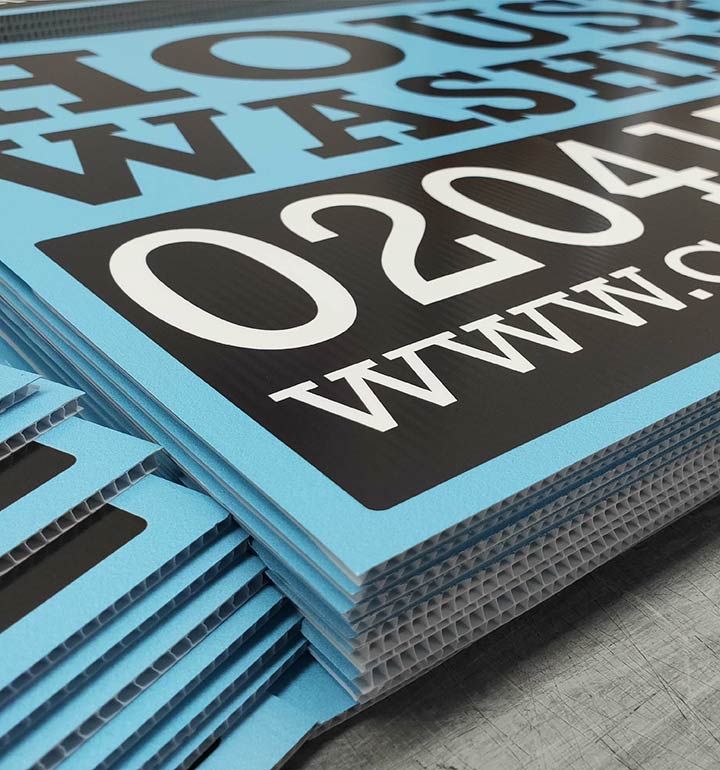 Corflute® Signs
Our Corflute® Signs are the genuine Corflute® corrugated plastic product which is manufactured in Australia by Corex. They are printed in high resolution full digital colour directly to the Corflute® on our high-quality UV flatbed printers to provide you with the best quality available.
While corrugated plastic signs are generally regarded as temporary, the extra UV inhibitors in the Corflute® material can expand the lifespan 30% longer than the imported product. Your real estate and promotional signs will look great for even longer!
So if you want a 100% Australian-made product and the best quality – here it is!
Huge bulk discounts
100% Australian made
Available in 3mm or 5mm thickness
2-year warranty – Corflute® has extra UV inhibitors to give you an extra 30% lifespan over the imported products
Clear eyelets – no metal, no rust, so your signs look even better!
Custom cutting available at no extra charge – can be cut to convex geometric shapes, including circles, triangles and hexagons
If you would like rounded corners on the Corflute® – just let us know the radius of the curve you need!
Minimum size 150mm x 150mm Maximum Size: 2400mm x 1200mm (larger sizes available in multiple panels)
Completely recyclable when printed on – even with eyelets!
Vinyl Banners
Vinyl Banners are perfect for advertising your events & sales! We print custom single sided vinyl banners in full colour and can finish them with eyelets, ropes or rod pockets for you to hang them up.
Quality 510gsm Vinyl Banner Material
Photo Quality Full Colour Digital Latex Printing
Our banners look great with clear eyelets
Single sided printing only
Maximum banner height: 2100mm (2050mm with rod pockets on top and bottom)
Maximum banner width: Unlimited but split into max 10,000mm widths
Finishing methods include: Ropes and eyelets, hemmed edges and eyelets or rod pockets
Place An Order for Corflutes & Banners